With the new Scorecard Manager, managing your scorecards, configuring transactions, and setting up integration events is now easier than ever.
Within the manager, you will find three kinds of scorecard templates:
Active Scorecard – The scorecard currently enabled within the transaction. This is the scorecard that will launch when the corresponding transaction is launched.

Archived Scorecard – Disabled scorecards that were enabled and referenced by the transaction previously. These can also be older versions of an active scorecard that have since been replaced.

 

Scorecards are automatically archived within a transaction when they are replaced or swapped within a different scorecard.

Draft Scorecard – Scorecards that have not been enabled yet. These can be working versions of scorecards that are not yet ready to be released within a transaction.

 

Draft scorecards can be:

Linked to transactions – created when you copy a scorecard that's linked to a transaction. The draft scorecard will retain the transaction link for future release within the same transaction..

Unlinked  – scorecards created using the 'Create New Scorecard' button or have been unlinked from their original transactions. These draft scorecard can only be released within a new transaction.
Scorecard Manager Overview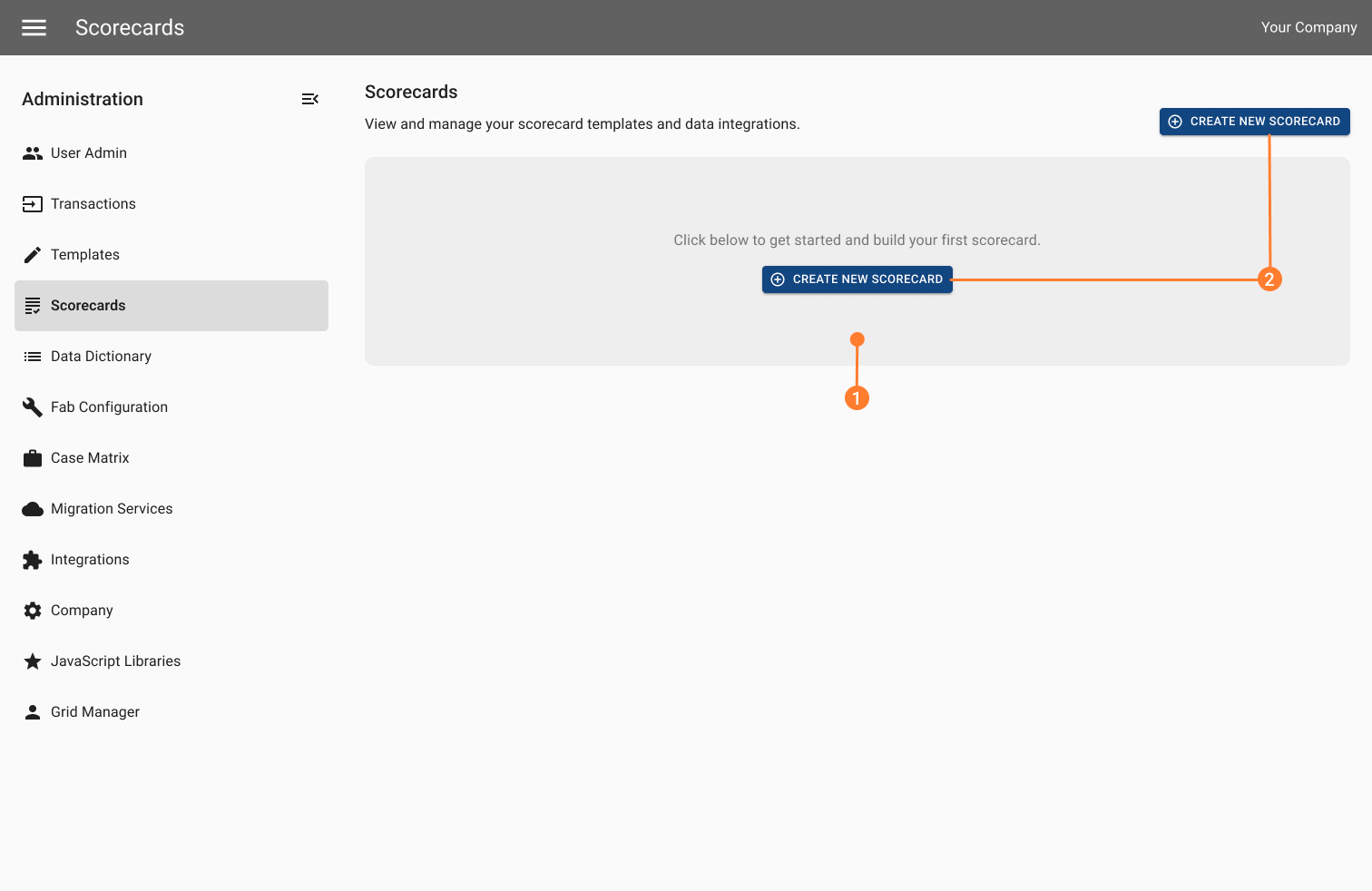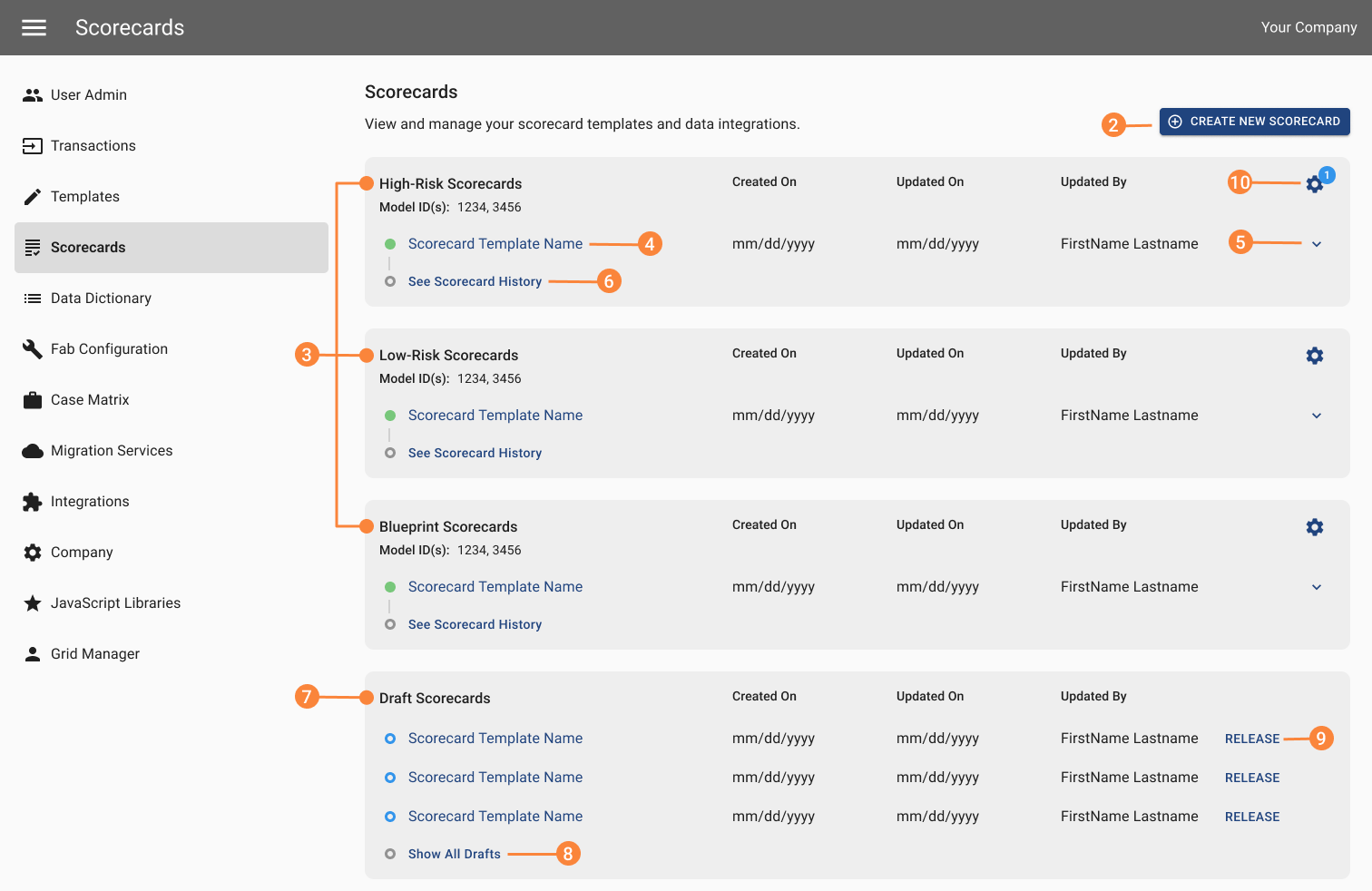 Scorecards Manager  – View all scorecard templates and corresponding transactions within your company. 

Create New Scorecard – Create a new scorecard template within the ScanX Editor

Transactions – View all data and information related to a transaction. This includes active, archived and draft scorecards linked to the transaction, model IDs, and any enabled integration events. You can also modify and swap the scorecards referenced by the transaction [LINK ARTICLE]

Scorecard Template – Individual scorecard template. Click on the scorecard name to open the template in the ScanX editor.

Expand Scorecard Template – Expand a scorecard template to view relevant comments on changes made to the scorecard, if available

See Scorecard History – View all scorecards linked to the transaction in chronological order, from most recently enabled at the top

Draft Scorecards – View and manage any unlinked draft scorecards within your company

Show All Drafts – Expand to view all unlinked draft scorecards

Release / Restore – Release a draft scorecard within a transaction or restore an archived scorecard in its original transaction

Scorecard Events Cog – Click to open the Scorecard Event panel and review/manage all integration events configured for the selected transaction. Number shown on cog icon refers to number of events enabled in transaction
Scorecard Events Panel Overview
Within Scorecard Events, you will find two type of integration events to configure:
Mapping Group Integrations

Integrations that require a mapping group set up within the Integration Manager in order to run. This includes Salesforce and IRIS CRM (Send) integrations.

Learn more about mapping groups and the integration manager here [LINK TO ARTICLE]

Postback Integrations

Integrations that require setting configurations, including but not limited to Endpoint URLs, Username, and Password, in order to run.

Learn more about postback integrations here [LINK TO ARTICLE]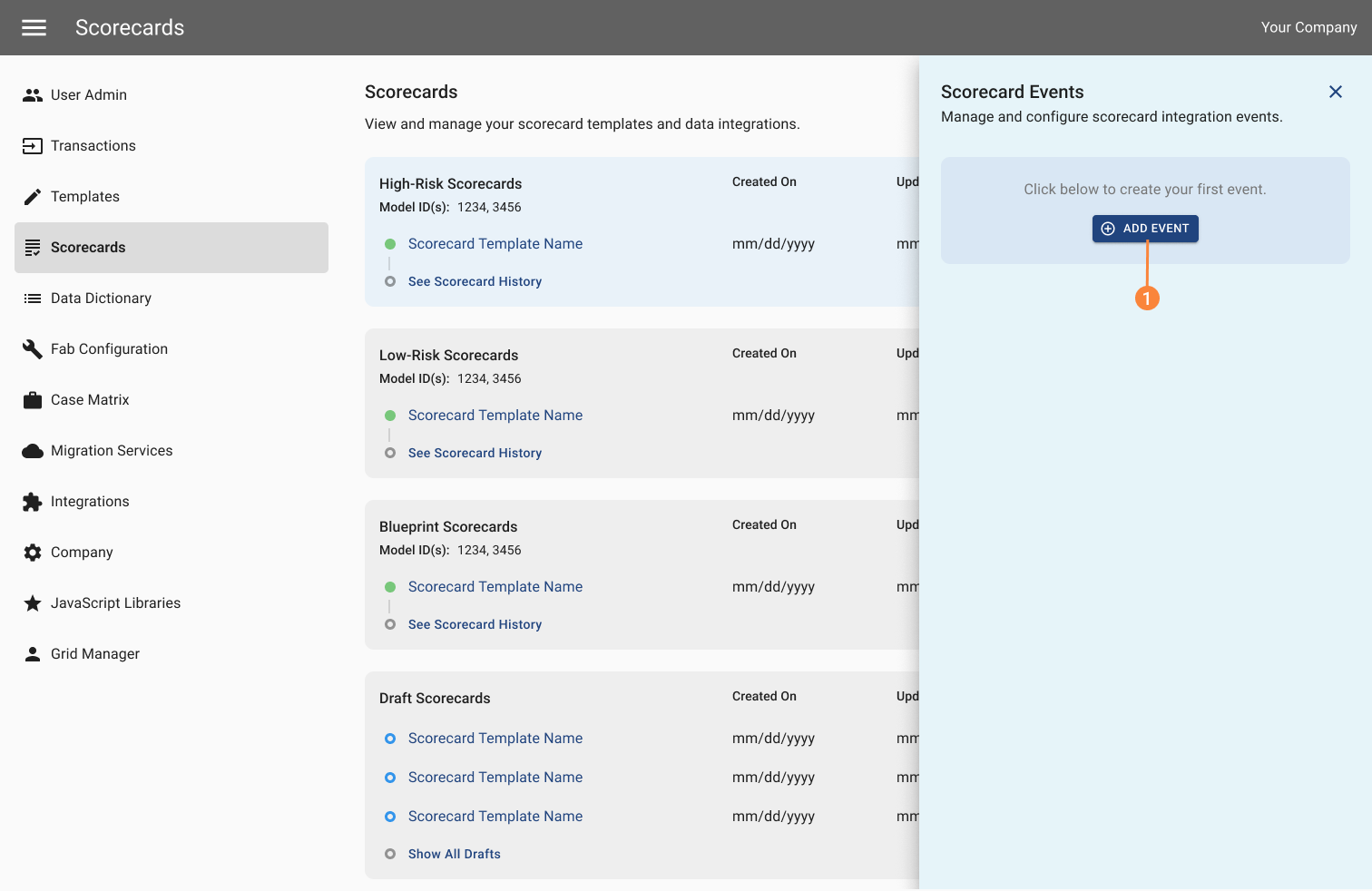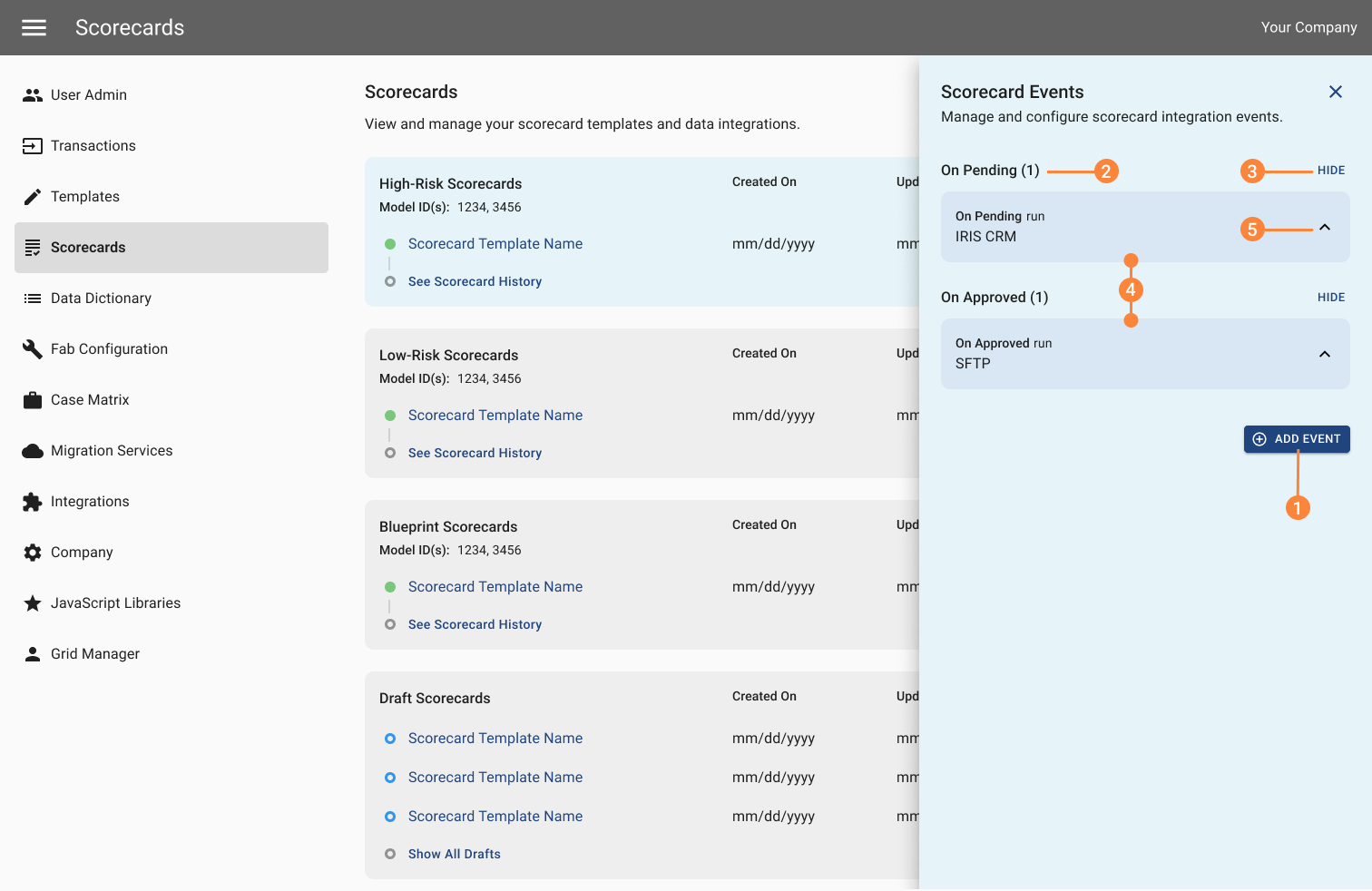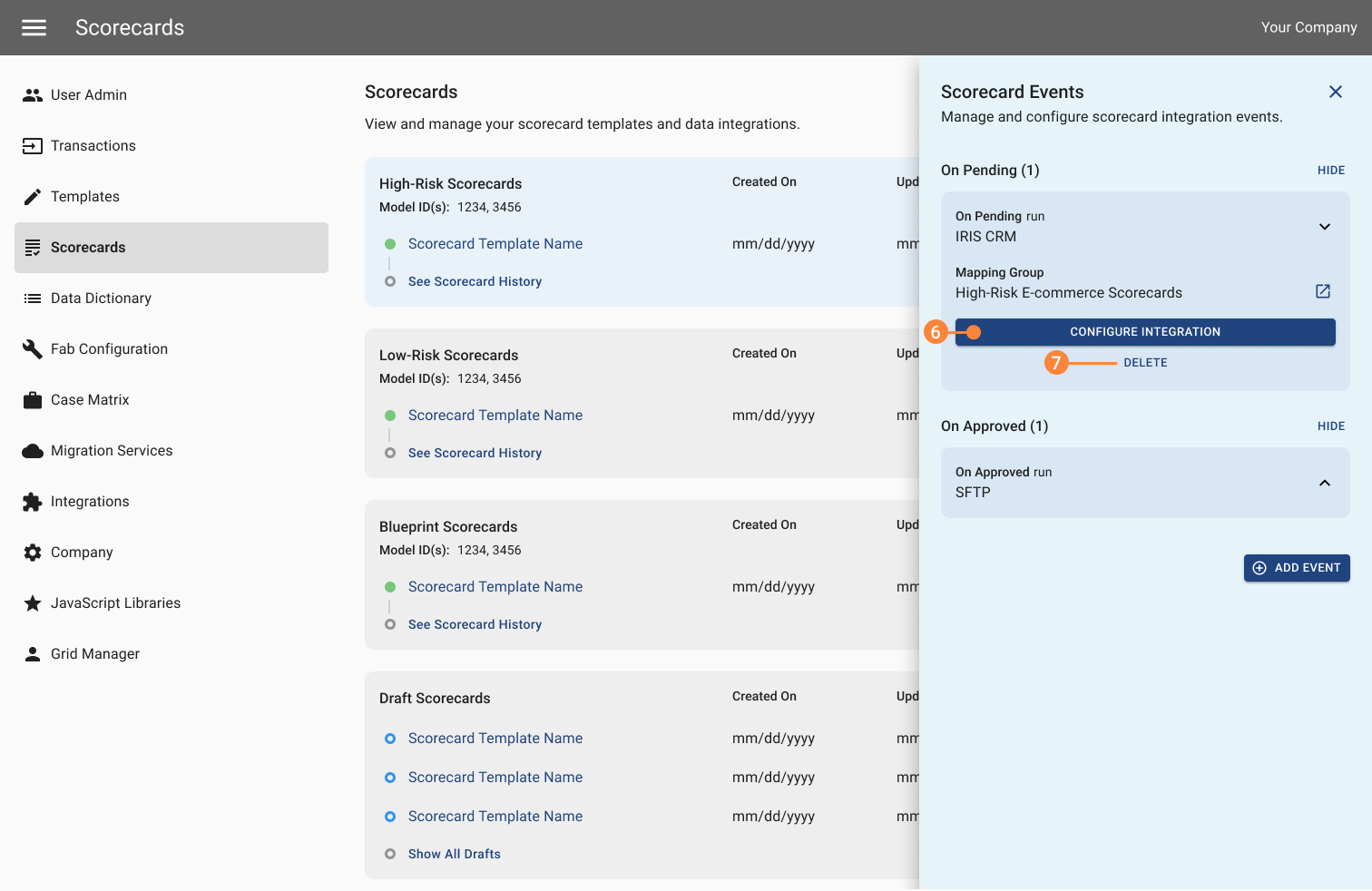 Add Event – Add a new integration event for the selected transaction

Event Triggers – Review all triggers, and corresponding integrations, configured for selected transactions. Count in Trigger name corresponds to the number of integrations configured for that trigger.

Hide / Show – Hide or show all integrations configured for event trigger

Integration – Review integration configured to event trigger

Expand / Collapse - Review additional integration details and settings

Configure Integration – Click to activate Integration Event editor to modify an enabled integration event. Button is visible when the integration event is expanded.

Delete – Delete a configured integration event